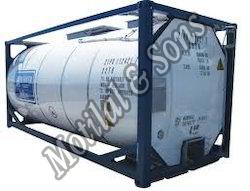 For companies that transport fluids, ISO Tank is a well-known abbreviation. It is a tank that is frequently used to carry liquids, both hazardous and non-hazardous. Let's go and learn more about ISO storage tanks and the advantages and benefits they have to offer.
ISO Tank
An ISO Tank is a container designed to transport bulk liquids according to ISO (International Organization for Standardization) specifications. Both dangerous and non-hazardous fluids are intended to be transported to far-off locations.
The stainless steel used in ISO Tank Containers is reinforced with several shielding layers. Depending on the kind of fluids it transports, several outside designs or skins are applied to ISO tank containers.
The ISO Tank Meaning, which blatantly displays the name of the International Organization of Standardization, reflects the dependability of these mobile tanks. If the bulk of your company involves moving liquids, ISO Tank is your only great resource.
Now that we are aware of what an ISO tank is, it is time to consider its benefits. Let's investigate them.
Benefits Of Using An ISO Tank
There are several benefits to using an ISO tank for faultless fluid transmission. What sets ISO Tanks apart is their ability to handle fluid in various environments and distribute it without a leak.
Here are some benefits of ISO tank containers:
Ability to Transport a Variety of Fluids
To properly transport the fluids they are designed for, ISO storage tanks must meet several requirements. These vessels can transport the fluids over vast distances and for extended periods without causing any damage to the tanks.
Maintain No Leakage When Moving Fluids Through ISO Tanks
An ISO tank's capacity to continue being leak-proof is its most useful quality. Businesses can transport their fluids without spilling over the world because of this advantage.
Extreme Pressure May Be Handled Using ISO Tanks
Extreme pressure may be withstood by ISO Tank Containers, eliminating the possibility of fluid and tank damage.
No Further Packing Is Necessary
Tanks don't require any additional shipping packing materials either. To get on the road, all you need to do is fill the ISO tank with the liquid you want to convey.
The Fluids' Particular Temperature Is Maintained Using ISO Tanks
Strong ISO Tank Containers are used to transport fluids that must be maintained at a specified temperature. Even when fluids are carried by diverse modes of transportation, such as road, rail, or water, ISO tanks retain a certain temperature.
The Safest Method for Moving Bulk Liquids
These tanks are constructed following ISO standards, and both their safety and usefulness have been carefully studied. It comprises numerous closures and values, and a leak may only occur after every closure has failed. This characteristic makes ISO tanks the most secure method of moving expensive and uncommon liquids.
Final Words
The sizes and types of ISO tanks vary. The ISO Tank Container may hold between 21,000 and 40, 000 liters of the bulk fluid. This implies that ISO Tank can transport a substantial amount of fluid to meet your company's demands.
These ISO tank container specs provide an indication that ISO Tanks are the best option for transporting any liquid, be it a chemical, food solvent, or another type of liquid. While some ISO tanks transport chemicals and others do not, those that do have a very similar chemical composition to General ISO Tank Specs, such as the ones we listed above.